D-HR干湿态雨夜反光用高性能玻璃珠
D-HR玻璃珠
Drop-on | Premix | Reflective Glass Beads
large wet-weather beads
Wet Road Rainy Reflective Glass Beads
tailor made for every kind of performance requirement
high-performance glass beads
Our highly reflective TORY® make marking systems more visible at night, in particularunder wet conditions. This effect is achieved, firstly, by their crystal clear surfaces and, secondly, by thelarge diameter: Consequently, the bead protrudes out through the film of rain and is able to reflect thebeam from the headlight. Suitable for thin-layered marking systems with increased requirements forvisibility in the wet.
D-HR glass beads are applied under gravity or pressure as a surface application to a wet film of pavement-marking material to provide retroreflectivity. When these beads are applied on a smooth substrate, a nominal rate of 500 g/m2 may be appropriate. A coarse surface substrate usually requires a higher rate of application of beads to achieve a similar level of retroreflectivity.
These beads have no moisture-proof coating and are, therefore, also suitable for intermixing into thermoplastic pavement-marking material to provide retroreflectivity in both dry and wet conditions throughout the life of the marking. These beads should be intermixed at a rate of not less than 20% by mass.
AS/NZS 2009:2006
APPENDIX M
RETROREFLECTIVITY VERIFICATION OF TYPE D-HR BEADS
(Informative)
D-HR玻璃珠
The minimum level of retroreflectivity for Type D-HR glass beads is 600 mcd/㎡/lux。
High Performance beads are made from 100% virgin glass. Due to their size, their high roundness (options up to 90%), and superior glass composition, expect the highest level of retroreflection, especially on wet-night conditions. TORY D-HR glass beads are one of the most cost-effective and sustainable ways to increase road safety.
Recommended applications:
• High-quality drop-on, especially with high requirements for wet-night reflection
• Can be applied with standard road marking equipment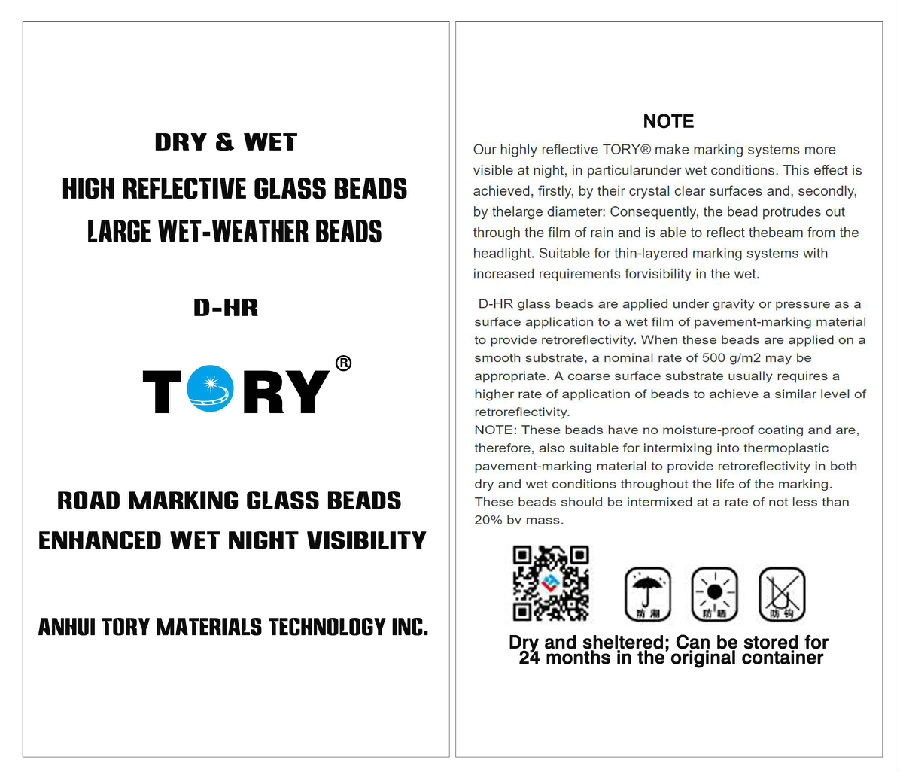 注:玻璃珠的粒径,级配一样,不代表其逆反射性能一样。
‍‍‍‍怎样判定玻璃珠逆反射性能的好坏,请参考澳大利亚标准对D-HR玻璃珠性能的测试方法‍‍‍‍